While there has not been a single Avalon ASIC bitcoin miner device seen in production by any independent person or organisation Avalon are pushing ahead with their plans for the sale and production of a second batch.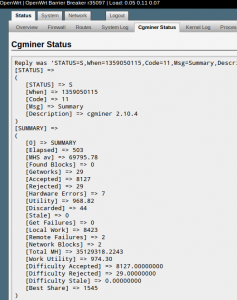 In a mail out earlier today Avalon reviled their new, as yet unfinished launch web site as well as a few technical details about their currently shipping devices and a screen shot of OpenWrt running cgminer (pictured to the right).
Furthermore according to BitSyncoms(Yifu G.) latest post batch 2 will consist of 600 units to add to the original (and undelivered as of yet) 300 from batch 1 and the power consumption is coming in at a hefty 6.6 \~ 6.7w per Gh/s.
There does seem to be some cause for concern though, BitSyncom has gone on to detail their "Bitcoin Only, No Refunds, No Proof" policy for the second batch;-
Bitcoin Only - Batch #2 of Avalon will only accept bitcoins. Only Bitcoin will allow us to move half a million USD in a few hours into places they are suppose to go to. This will also allow us to automate the order system. I am aware some EU and SA country will have importing issues due to customs, but I see a possibility for re-sellers to grow and take care of this problem.
No Refunds - Avalon has always been a BTO - Build to Order unit, we order materials and parts based on the size of each batch, this allows proper financial management, eliminate back-orders and improve overall efficiency and workflow on how we work. How else did you expect us to produce a functional ASIC unit in the same length of time a competitor has been delayed?
No Proof - Jeff and/or Bitcoin Foundation will get their unit and release reviews. Let me remind everyone what I've said month(s) ago, we can not stop people from tinkering and releasing information regarding our product, but we seldom will release any information. We will instead focusing more on killer features, some of which is already hidden in our unit. In this highly cutthroat competitive field, we do what we can to survive.

BitSyncom
BitSyncom does so on to say that there will be a trade in value for their older FPGA products, \$200 for the Iracus FPGA and \$300 for Lancelot FPGA.
While the second batch is not scheduled to ship until March or even April it is necessary for Avalon to start to take pre orders now because as BitSyncom says;- "So, we have a problem. Avalon need the money before this weekend starts to place orders for the parts."