CoinTerra have been at it again and added a new product to their line up, the "GSX I™ – PCIe Bitcoin Mining Card".
I can already hear people asking, "Wait a sec, where is my TerraMiner that I ordered last August?", but lets not go there for now.  That is a totally different story that appears to have no answer (I am still digging).
This time CoinTerra has gone away from the stand alone box that contains miner and operating system and followed ButterFly Labs example of creating a PCI card that is installed into a computer.  This solution is similar to the ButterFly Labs Monarch 600 GH/s bitcoin mining card but less expensive while using more power.
The solution passes the responsibility of operating the mining card on from the manufacturer to the client.  It is an understandable move by both parties because creating and maintaining a Mining OS is quite a considerable and expensive undertaking (One as the creator and author of MinePeon I am only too familiar with).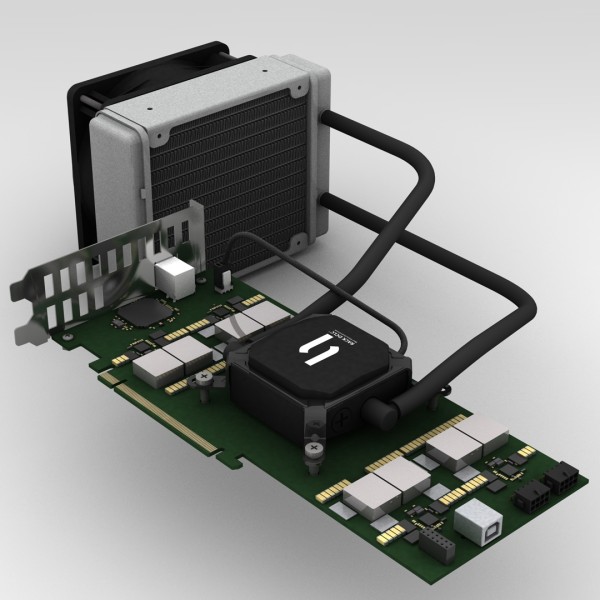 The details of the GSX I™ however is a bit thin, there is an accompanying PDF with the announcement with a fairly detailed specification of the card;-
**Technical Specifications**
Form Factor
Dual-width PCI Express card
ASIC
GoldStrike I 28nm Process Node \>400 GH/s Effective Hash Rate \~400W Power Draw
Cooling
CoolIT DCLC™ (Direct Contact Liquid Cooling) Heat Exchanger 120mm Heat Exchanger Fan
Power Supply Requirement
PC System + 450W
Interface Ports
1 x USB 2.0 Type A 1 x USB 2.0 Type B 1 x USB 2.0 Internal Pin Header
Ambient Operating Temperature
10° to 35°C (50° to 95°F)
Emissions Compliance
FCC / CE
At 1 GH/s per watt plus the power draw of a computer it does not seem to compare well with its competitors though.
Perhaps it is just the thing to get if you are looking to use up for 15% discount from your last pre order with them (while you are waiting for your last pre order to arrive that is).