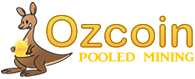 In a similar event that happened at the beginning at the week with a 800 GH/s user at BTC Guild that later turned into the monstrous 3 TH/s user 67717, now known to be ASICMiner.  There is now another user that has joined the ozcoin pool and started hashing at 500 - 6oo GH/s.
Current speculation in the community at bitcointalk is that it is another deployment from ASCIMiner coming online.
If you go over to the Ozcoin Hall of Fame (the user top 20 seems down at the moment) you will see an anonymous user currently sitting at 550,906 GH/s or just over half a TH/s.
While it has yet to be confirmed it seems that ASICMiner may have decided to spread their hashing power, believed to be somewhere around 12 TH/s across multiple pools in an effort to spread the load of their hashing or even belay people fears of a 51% attack in progress.
UPDATE: I got a screen shot of the top 20 using firefox;-