If you keep a close eye on bitcoin and bitcoin related sites as I do, you may have noticed that Avalon ASIC seem to have opened a new branch in Europe to sell their bitcoin ASIC mining devices.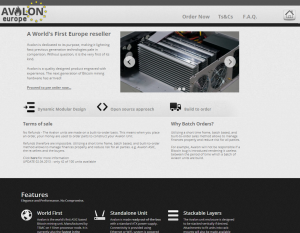 The site ( http://www.bitcoinavalon.com/ go there at your own risk, I have included a screenshot to the right if you want to view it) looks quite official using the same basic CSS and HTML as the official site but under further inspection has several errors and broken links.
I am glad to confirm that according to Avalon ASIC themselves (via a brief email update contained below) that this is not Avalon ASIC, or even remotely associated with Avalon ASIC it seems.
Dear [email protected],

http://www.bitcoinavalon.com
is NOT an official Avalon ASIC site.

We've gotten several emails asking for confirmation and here it is.[email protected]