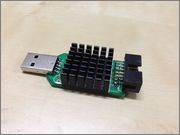 Ever since Friedcat from ASICMiner announced the new 300 MH/s Block Erupter USB devices I have been wondering how I can get my hands on some.
The terms of their sale is that you need to buy a minimum of 300 of the devices at 1.99 BTC each, that is an all up total of 597 BTC!  While I do have a few bitcoin set aside for hardware I unfortunately don't have 597 and I certainly don't have 300 spare USB Ports.  Fortunately BitcoinTalk came to the rescue for a lot of miners when a few users set up what is called "group buys".  A group buy is a relatively simple idea where one miner collects funds (in the form of BTC) and buys from ASICMiner.
A few group buys where quickly set-up and started filling.
Forum user Arklan set one up for US/Canada users that quickly filled up and CanaryInTheMine also set one up,this time for US miners only (it is still open though).  There are even a few efforts to get a group buy going in Europe.
Unfortunately this still leaves a good 80% of the world (including myself) out of luck.
So I have decided to do something I thought I would never do, I am volunteering to set up and perform a group buy for all of us that cannot take advantage of Arklan's or CanaryInTheMine's offer.
I set up a new server, got a SSL Certificate and started my own group buy.  You can find my group buy at;-
While the main propose for this is to get Block Erupter USB's into the International market it is open to all, even those outside North America and Europe.  I have out of necessity had to price the devices at 2.6 BTC each to take into account all of the shipping, customs, insurance and various taxes but we are finally able to buy them.
The order system has been open for about 30 minutes now and there are already orders in the system waiting for confirmation.