UPDATE: Please read this article.
AUTHORS NOTE: Please read the comments at the end, as of yet no one in the bitcoin community has been able to verify PrimeAsic's devices.
AUTHORS WARNING: It has now been in excess of a week since the PrimeAsic announcement and despite repeated attempts to contract them by myself and other members of the bitcoin community we have yet to receive any sort of correspondence apart from their bank account details.  At present I would advise EXTREME CAUTION in dealing with PrimeAsic and would like to invite them to contact me directly (my contact page has all my details) if they would like to arrange an independent verification of their claims.
If it is proved to be true another manufacturer has entered the ASIC bitcoin mining device arena.  According to a post made today on BitcoinTalk by a forum member called PrimeAsic they have just become another device supplier and they already have their devices built and in stock.
The post (quoted below) does not include the cost of the new devices (see the update at the end) but according to PrimeAsic the units will be capable of 80 GH/s each and they are currently using them to mine at Ozcoin.  That possibly explains the high hash user that appeared a few weeks ago.
Hello Everyone!

I'm posting to announce our ASIC product, PrimeAsic which does up to 80Ghash/s using a little over 800W power.

We are a Hungary based company, started developing this project in 2012 June, finished it without ANY pre-order money at all.
Now the units are ready to ship, or to be picked up locally.

Our webpage is currently being developed as I post here, please give us a day so it will be fully finished.
Domains owned by us: bitasic.com, btcasic.com, 80gigahash.com, primeasic.com
All other names are not owned by us, and are possible scam attempts to misuse our name.

I will constantly post with pictures of the miner equipment, specifications, prices, company details and if requested the registration certificate, phone number, address for local pickup and I will try to respond to every questions you may have.

And at last, here is a proof of it mining:

[]

[]

You can go to ozco.in pool, check the user top 20 and see us there:)
Mining will be stopped after our page comes live.

Stay tuned for more info!primeasic
While they have no website or logo yet they have provided us with a few screen shots contained below of the miner in operation at Ozcoin.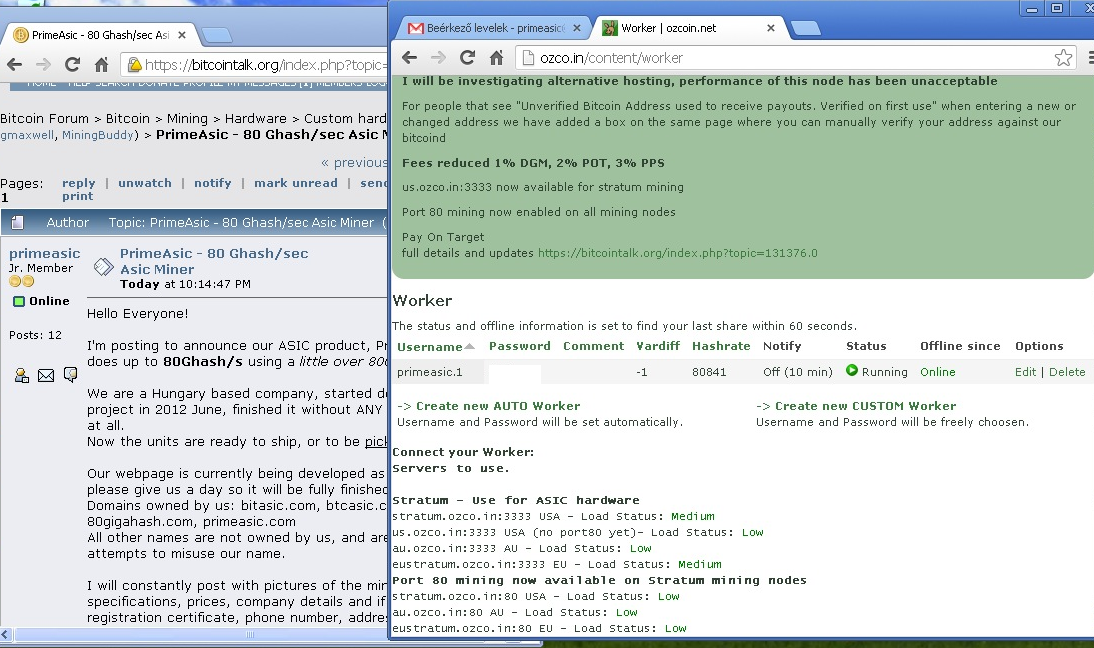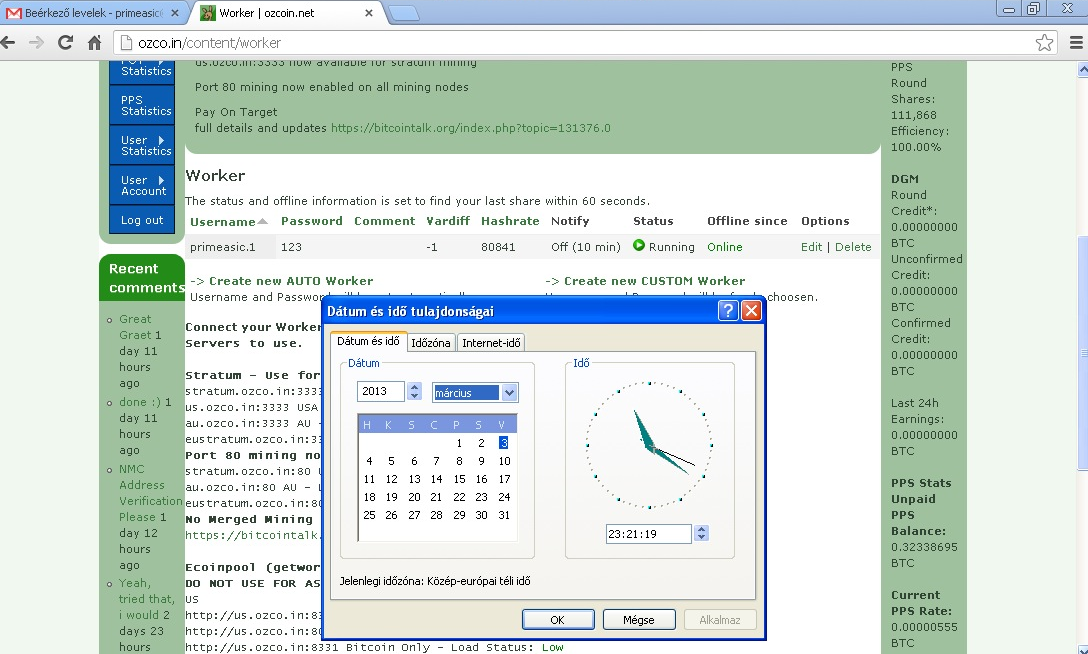 PrimeASIC is from Hungry making this the first European ASIC hardware manufacturer and they apparently managed to do all of their development without taking a single pre order.
UPDATE: Their web site says that the devices will be selling for €1249.
UPDATE2: I have been having trouble contacting PrimeAsic but will continue trying.  Several other people have also told me that they are having no luck.