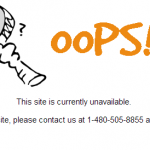 The website for BTCFPGAs ASIC offerings (http://bitcoinasic.net/) has been taken down today after weeks of controversy involving strange forum posts, guaranteed shipping dates, claims of hacking, Asian Buyers, Buyers from Iraq and finally claims of fraud from the same Iraqi buyers.
The WhoIs data (contained below) says that the domain is till valid, but the site is being re-directed to a Securepay page saying "This site is currently unavailable.".  Further more it goes on to ask the site owner to ring a GoDaddy support number.
Perhaps this will finally be the end of this story, but with hundreds of bASIC pre-orders apparently still outstanding I doubt it.
 Query:    bitcoinasic.net 
Registry: whois.godaddy.com
Results: bitcoinasic.net = [ 50.63.102.251 ]

     Registered through: GoDaddy.com, LLC
(http://www.godaddy.com)
     Domain Name: BITCOINASIC.NET
        Created on: 08-Oct-12
        Expires on: 08-Oct-14
        Last Updated on: 08-Oct-12
     Registrant:
     Domains By Proxy, LLC
     DomainsByProxy.com
     14747 N Northsight Blvd Suite 111, PMB 309
     Scottsdale, Arizona 85260
     United States
     Administrative Contact:
        Private, Registration 
[email protected]
        Domains By Proxy, LLC
        DomainsByProxy.com
        14747 N Northsight Blvd Suite 111, PMB 309
        Scottsdale, Arizona 85260
        United States
        (480) 624-2599      Fax -- (480) 624-2598
     Technical Contact:
        Private, Registration 
[email protected]
        Domains By Proxy, LLC
        DomainsByProxy.com
        14747 N Northsight Blvd Suite 111, PMB 309
        Scottsdale, Arizona 85260
        United States
        (480) 624-2599      Fax -- (480) 624-2598
     Domain servers in listed order:
        PDNS01.DOMAINCONTROL.COM
        PDNS02.DOMAINCONTROL.COM
     See Business Registration Listing
     Copy and paste the link below to view additional details:

 Results brought to you by the WP Whois Proxy  1.3.3;
http://wp-whois-proxy.sf.net
 Based on the GeekTools.com proxy
 Server results may be copyrighted and are used subject to the
terms and conditions of the Server


Raw WhoIs Data